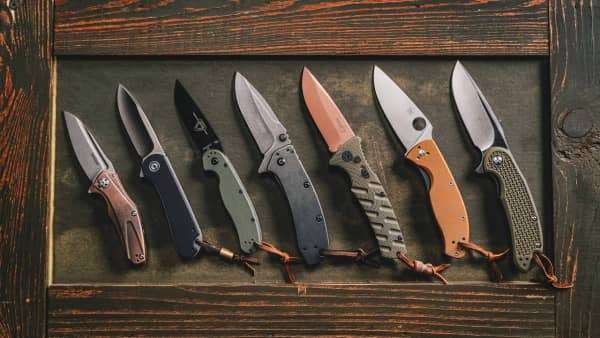 Most people do not understand the value of owning a pocket knife because they do not engage in activities such as skinning, fishing, or even gaming. However, having one is quite useful in our day-to-day tasks.
After all, you never know when you will need to tighten loose screws, dismantle boxes, cut ropes, or even cut food with a tool. The process of choosing the best everyday carry knife is personal. The technique varies from person to person. This year's greatest pocket knives for EDC will be discussed here.
Benefits of Pocket Knives as EDC
Everyone can benefit from possessing a pocket knife. Knives have a distinct worth and set of benefits for each individual. Here are important reasons why you should carry a pocket knife in your EDC.
Food preparation. When you are out and about, you can utilize your pocket knife to help with food prep. Your EDC knife can cut a sandwich, slice an apple, and open a stubborn bag containing your favorite meal. EDC blades come in a variety of sizes and shapes, so you're likely to find one that fits your needs. A Swiss Army Knife, for example, is useful to have around not only for its bottle and can openers but also for the main blade, which can handle most basic prep work.
First Aid. An EDC pocket knife can be used to cut an injured person's garments open in order to access their wound during an emergency. In addition, an EDC pocket knife can cut through diverse textiles better than scissors found in a first-aid kit. The scissors are usually only meant for thin dressings. You can also cut bandages and open drugs using the knife before application.
Self-defense. You can defend yourself with your custom pocket knife. Their blades are razor-sharp and deadly, despite their diminutive size. The sheer appearance of one can be enough to deter a would-be assailant. However, keep in mind that pocket knives can cause significant damage that can result in legal issues.
Pocket knives are popular and efficient self-defense weapons, but they must be used correctly. The user must be extremely skilled and trained in the use of a knife for self-defense.
Saving Lives. An unforeseen injury can happen at any time, whether you are outside or inside, which is why having a pocket knife available is a good idea. It can be used to cut bandages and wrap tourniquets. Nature lovers are also prone to get lost. With your best EDC pocket knife, carve directions on a tree so that the missing person, particularly the injured, can keep track of your whereabouts.
Opening Letters, Packages, and Boxes. You may save the effort of physically opening gifts, letters, parcels, and other objects with these handy and accessible pocket knives. These knives also aid in the cleanliness of your hands.
Consider how difficult it would be to go camping without a knife. That is a terrible concept! It's a must-have survival gear, whether it's for cooking or erecting a tent. In addition, a person must be safeguarded from wild or harmful splinters.
Peeling fruits. A nice dinner feels like a luxury when you're out in the woods; this is when you require on-the-go options like luscious fruits, which provide critical sustenance swiftly and comfortably. For cutting and peeling fruits from trees, pocket knives are a useful tool to keep on hand.
It's not as if everyone knows how to do professional kicks, and even mastering them won't guarantee complete safety. Aside from abilities, having the right equipment is essential for staying safe in difficult circumstances. It can assist you in fending off or diverting an assailant. Thanks to foldable knives that can be carried along.
What Kind of Pocket Knives Are Suitable For EDC
Although pocket knives are appropriate for everyday carry, not all pocket knives meet the requirements. Below are the features of ideal EDC pocket knives.
Portable: A pocket knife should be simple and easy to carry along with you.
Compact: For a pocket knife to be suitable for EDC it should be able to fit easily into a pocket
Long-lasting: Before you pick on your ideal pocket knife, ensure it can be used for a long time.
High-strength: A pocket knife suitable for EDC should have the highest level of customer satisfaction and operability.
Lightweight: Choose a pocket knife that feels light and has an uncluttered feel. This is ideal for work that requires a lot of effort.
Top Pocket Knives Recommendations
Every day carry configuration should include a pocket knife. These handy small knives can do a seemingly limitless list of chores, from slicing open a package to coring an apple and more. Everyday carry pocket knives feature a folding blade, making it easier and safer to stow in your denim jacket or back pocket. Here are a few recommendations of the best pocket knives.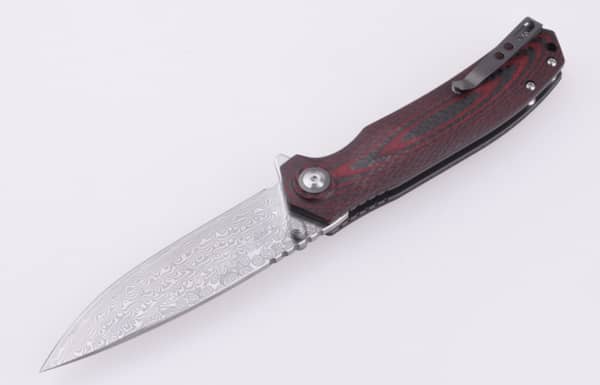 The drop point blade on this pocket knife is made of 9Cr18MoV 67-layer Damascus steel. This blade is the best EDC pocket knife here and is extremely tough and can be counted on at all times. Shieldon's pocket knives have a higher hardness rating than the other knife options they offer.
The blade's ratings range from 60 to 62, making it suitable for a variety of tasks. Carbon fiber, which is 70% lighter than steel and 40% lighter than aluminum, is used for the handle. It has a strong tensile strength and will last a lifetime. It can tolerate stretching as well as heat. It can resist rust even if not very well maintained.
Kershaw Leek Pocket Knife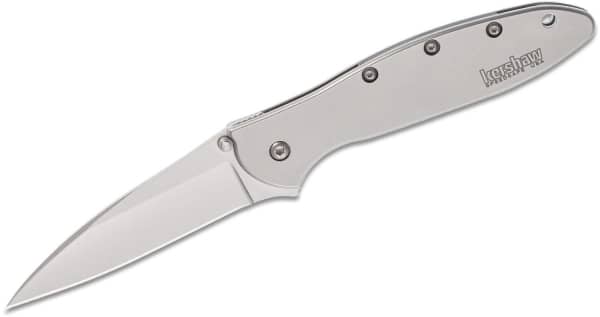 With Kershaw's best carbon fiber knife, you can take care of hunting, survival, camping, and your everyday chores in style. Additionally to the standard carbon fiber design, a variety of other colors and designs are available.
The blade is made of CPM 154 steel. With its stonewashed finish, this knife has a rustic appearance. The tip is extremely sharp and the edge of the knife is razor-sharp. The material is resistant to scratches and abrasion while remaining undetectable. In addition, it has improved corrosion resistance. Blade measures 3 inches long.
Handles are built to last a long time. This mechanism is made of carbon fiber and has a hole for a lanyard, along with four screws to hold it in place. You can get rapid results when you use the speed-safe assisted opening feature. You don't even need to know whether you're right-handed or left-handed; the knife is suitable for both.
SOG ULTRA XR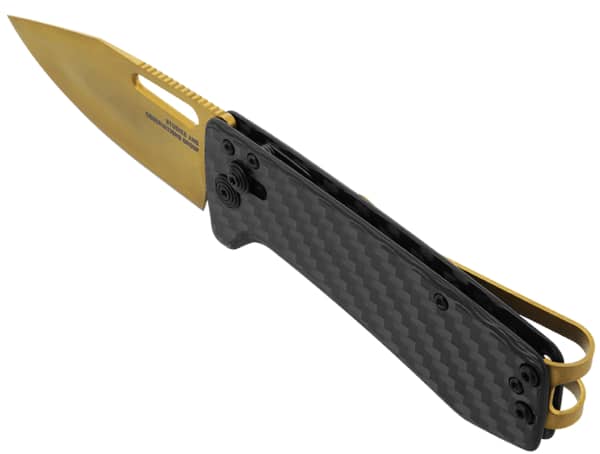 The SOG Ultra is a popular model because of its compactness, which has been one of the main reasons for its popularity. We are talking about a knife that fits inside certain wallets given its small size. It's incredibly stealthy, but it's also tough enough to be considered an everyday carry knife, especially if you get one with a carbon fiber handle like the SOG Ultra XR shown above.
Zero Tolerance 0450CF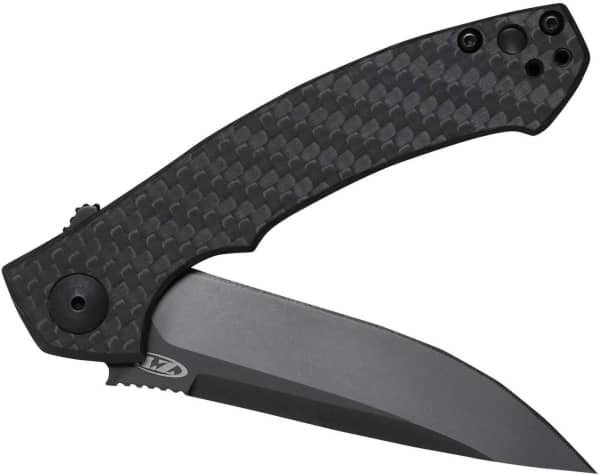 This pocket knife is extremely durable and built to last. It only comes in one style, but it may be used for many other things. It's a handy item to have around the house, but it also comes in handy for outdoor activities.
The blade measures 3.25 inches in length. It's made of S35VN steel, which is extremely tough and chip-resistant. The edge retention will pleasantly surprise you. A razor-sharp edge and a sharp tip characterize the drop point blade. It also has a nice DLC coating that gives it a dark appearance.
This folding pocket knife is easy to open and close. There is a significant amount of effort necessary. You may carry it around in your pocket without worrying about it accidentally opening. Make sure you hand-wash the knife rather than put it in the dishwasher. Make sure it's burnt before closing and storing it.
Spyderco Tenacious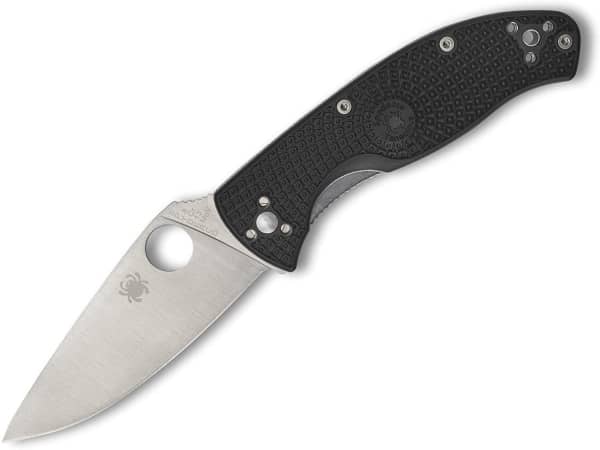 The handle on this everyday carry pocket knife is made to endure a lifetime. The G10 is a popular everyday carry pocket knife that is presently recognized as one of the best in the industry. It's built of carbon fiber and has a slim profile. The total weight of the knife is less than five ounces.
Spyderco's best folding carbon fiber knife is ideal for hunters, campers, outdoor lovers, and everyday knife users. There is only one style available. It also folds up into a pocket knife for easy storage and transportation.
Despite the fact that the blade looks to be little, it is always a good choice. It is made of stainless steel 8Cr13MoV and is 3.5 inches in length. It won't rust or corrode, and it won't require any maintenance. Use caution when packaging it because it has a razor-sharp edge and a pointy tip.
Benchmade Mini Bugout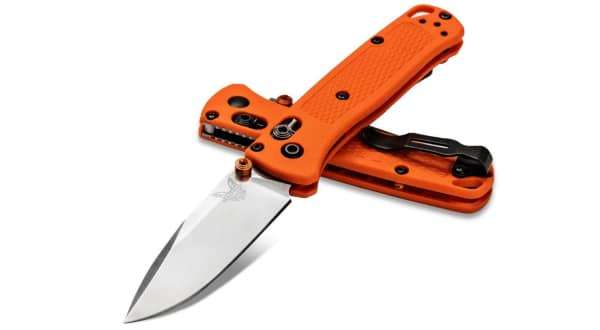 Benchmade knives are the gold standard when it comes to affordable, high-quality EDC pocket knives. The best selection for versatility and portability is the Mini Bugout, which measures 3.7 inches when closed and has a 2.82-inch blade. With a weight of only 1.5 ounces and an extremely slender design, you will hardly notice it in your pocket.
The knife's drop-point CPM-S30V blade will impress you with its sharpness and durability. The blade is finished in diamond-like carbon and has a hardness of 58-60 HRC.
Kershaw Leek Folding Knife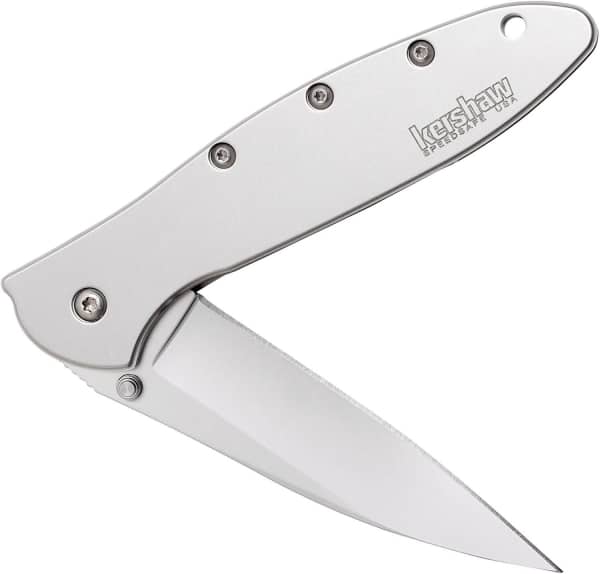 Kershaw's Leek custom pocket knife excels at minimalism and efficiency in equal measure. This is ideal for piercing and precise cutting. Sandvik 14C28N steel was used to make the blade, which has exceptional corrosion resistance and durability. Unlike many pocket knives, the handle is stainless steel as well, giving it a sturdy feel. At 3.2 ounces, it's a bit on the heavy side, but some users prefer the weight. The knife also has a torsion bar opening, which allows for a one-handed flick to quickly open the blade.
CRKT CEO
CEO pocket knife is designed to blend in with any office or urban surroundings. It may easily pass for a pen when stored in a shirt or pants pocket, thanks to its low profile design, light 2.1-ounce weight, and clip. With a glass-reinforced nylon grip and a slender blade, it's also pretty attractive.
The blade is made of high-grade stainless steel that, despite its small size, is remarkably robust. Thanks to an IKBS bearing system that provides switchblade-like speed, unfolding the blade is also a breeze.
Opinel No. 8
The Opinel No. 8 is a cheap, multipurpose knife that was invented over 130 years ago for peasants and railroad workers. It's the lightest knife we tested, making it ideal for on-the-go activities like hiking, hunting, picnics, and gardening.
The carbon steel blade on the No. 8 isn't as sharp as some modern knives, but it's incredibly tough for its size, and it's great for chopping meats, cheeses, and fruit. Although the No. 8 takes a little longer to open and close, it's a stunning knife at an exceptional price that feels like a throwback to a simpler time.
CRKT Squid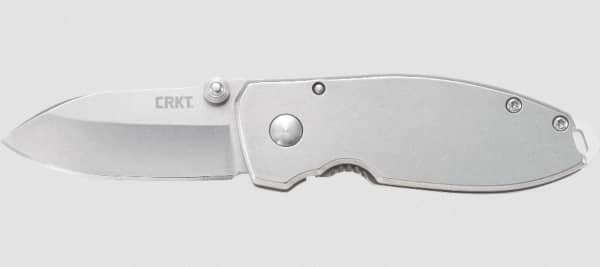 The CRKT Squid is known as the bulldog of pocket knives. It features a short, thick blade made of high-quality steel and is remarkably durable for such a small person. For some, the Squid may feel a little in the hand, but it can still handle all chores.
It's a fantastic box cutter that rips through even the toughest materials like butter. Because of its compact size, the Squid keeps out of the way of your keys and other little items in your pocket. The Squid is a well-made and enjoyable knife to use if you are searching for a high-quality, yet cheap knife with a short blade.
Conclusion
Your pocket knife should be reliable and efficient, but it should also be one-of-a-kind. You will be at peace knowing that you have covered all of your bases. An effective EDC pocket knife exhibits both foresight and discipline by including only what you need on a daily basis and leaving behind what you don't. Shieldon will provide you with high-quality, dependable pocket knives. Please contact us if you have any questions concerning pocket knives.